Without ever having done sport, hikes have yet been a pleasure and sometimes a challenge to L.S: already in the 1970s with his young son Lambert on Monte Paradiso, and later, since 1990, starting from the family's holiday home on Lake Como in the Alpine region around Lake Como.
In 2001 L.S undertook his first great hiking, led by son Lambert, the researcher on international climate policy, on the occasion of his 30th birthday: surrounding the Torre de Paines Mountains in Patagonia, with a tent and provisions for a week. The route took the father to the limits of his possibilities, but the hardships were rewarded with unforgettable scenic impressions.
Long distance hiking tours through Europe
It wasn't until 2009 that the idea ripened to try a real long hike: from the place of residence in Hamburg to the holiday home on Lake Como – and not with family or friends, but alone: with a backpack, but without a tent, in booked accommodation (youth hostels, church institutions, small hotels, private rooms). This first solo long hike was continued in the following years through all of Italy from the Alps to Brindisi and, after crossing the Adria, further through Greece: from Igoumenitsa to Athens and finally to the southern tip of the Peloponnese. So all in all from Hamburg to the Mani.
From 2017, this north-south hike is being supplemented by a second long-distance hike, now in a transverse direction from east to west: from Trieste through northern Italy and the Provence towards the Atlantic – again in stages, each year for about a month in spring.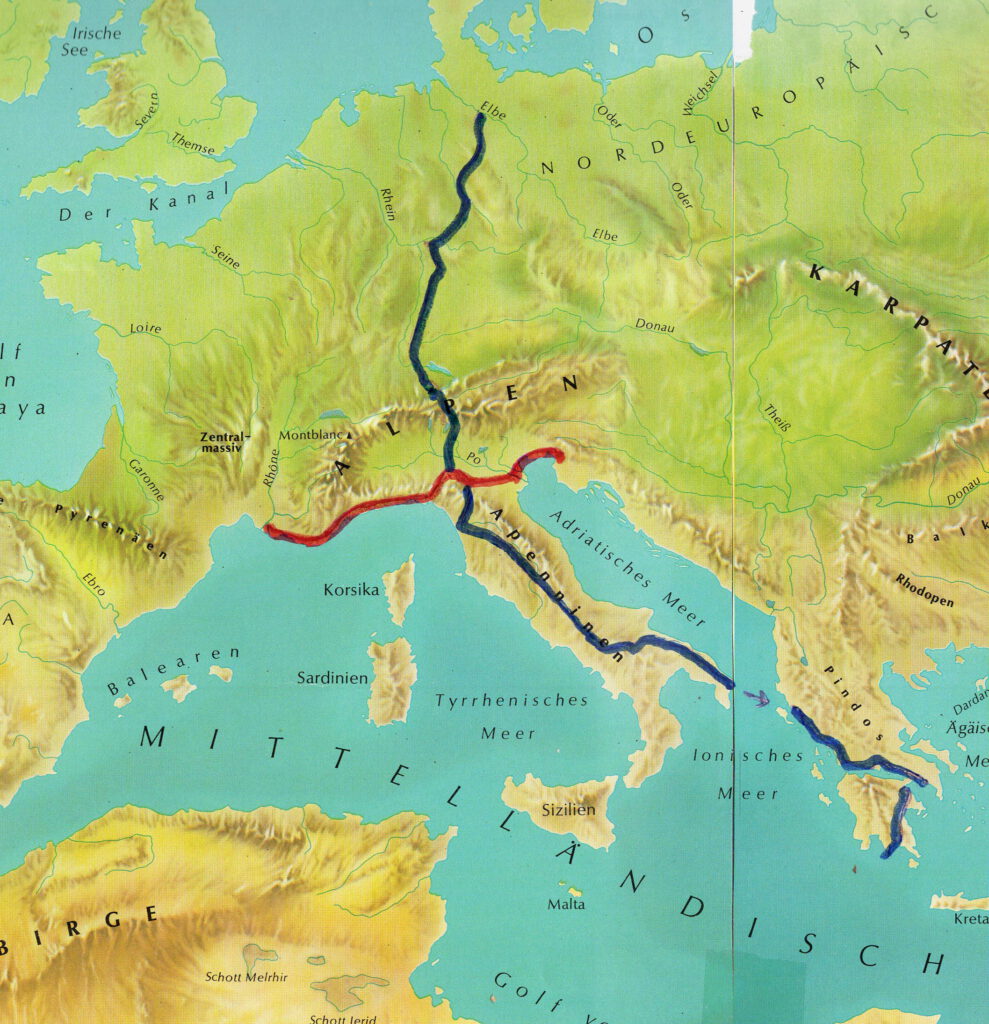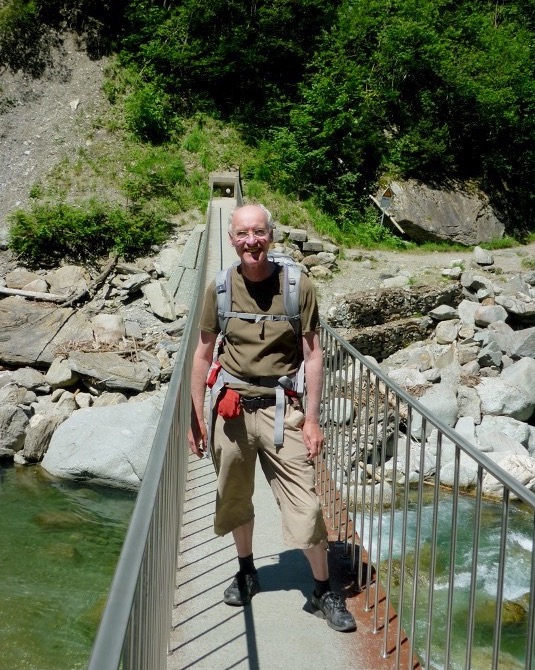 North-south: From Hamburg to Greece
Total distance: 4.040 km.  Altitude difference (ascent): 40.470 m.
2010 April 7 – June 30
Hamburg – Celle – Kassel – Frankfurt – Black Forest – Zurich – Spluegen-Pass – Lake Como (Perledo).
1.585 km. Altitude (ascent):18.650 m.
2013 March 12 – April 14
Lake Como (Perledo) – Lecco – Cassano d'Adda – Lodi – Piacenza – Fiorenzuola – Massa – Lucca – San Gimignano.
508 km. Altitude (ascent): 6.060 m.

2013 June 4 – June 27
San Gimignano – Siena – Lago di Bolsena – Terni – L'Aquila.
437 km. Altitude (ascent): 4.360 m.

2014 March 25 – May 1
L'Aquila – Sulmona – Campobasso – Foggia – Cerignola – Bari – Monopoli – Ostuni – Brindisi.
615 km. Altitude (ascent): 5.440 m.
2015 April 18 – May 19
[Crossing the Adriatic: Bari – Igoumenitsa].
Igoumenítsa – Sývota – Parga – Nikopolis – Preveza – Astakos – Oiniadai – Mesolonghi – Nafpaktos – Delphi – Thiva – Elefsina (Eleusis) – Athens.
610 km. Altitude (ascent): 3.760 m.
After a break of 4 years, during which the second great migration from east to west began, the north-south route was completed by reaching the most southern point of mainland Greece: Cape Tenaro on the Mani peninsula. 

2020 September 23 – October 22: this time for a week with the 12 year old grandson Tom Haenchen.
For Tom, when he was not even two years old, his grandfather, his 'nonno', was the epitome of a hiker. At home he grabbed the walking sticks that were pushed together and stammered "Nonno hiking". Now, at the age of 12, he walks a part of this very last north-south route with his grandfather.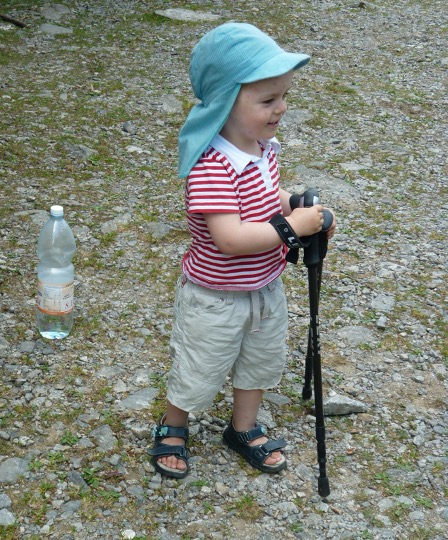 Peloponnese: Athens – [by boat to] Ermioni – Nafplio – Paralia Astros – Leonidio – [Bus back to Athens and from there to Kalamata] – Stoupa –Cape Tenaro (Mani).
285 km.   Altitude (ascent): 2.200 m.
East-west: From Trieste to the Atlantic
Total distance up to now: 2.558 km.  Altitude (ascent) up to now: 9.430 m.
2017 April 7 – April 26
Trieste – Grado – Aquileia – Jesolo – Venice- Dolo – Padova – Vicenza
250 km. Altitude (ascent): 300 m.
2018 April 20 – May 25

Vicenza – Brendola – Lonigo – Sabbioneta – Pavia – Tortona – Arquata Scrivia.
395 km. Altitude (ascent): 1.900 m.

2019 May 6 – June 3
Arquata Scrivia – Genova – Pegli – Savona – Albenga – Imperia – Sanremo – Menton – Nice (Nizza) – Antibes – Cannes – Theoule-sur-Mer.
340 km. Altitude (ascent): 3.100 m.

2020    
Continuing to hike on this route was canceled this year due to Covid-19. Instead, an autumn hike took place in Greece (see above).
2021
Continuing to hike on this route was canceled this year due to Covid-19. Instead, an autumn hike took place in Germany: The Rheinsteig from Wiesbaden to Boppard.
2022    April 29  – May 12. 
Théoule-sur-Mer – Fréjus – Collobrières – Bormes-les-Mimosas – Carqueiranne – Marseille – Ensuès-la Redonne – Arles.
Partly with bus and train. Pure hiking distance: 205 km.   Altitude (ascent): 2.900 m.
2023    April 19 – April 27.
Planned: Arles
–
Toulouse. Canceled due to a fall.
Hiking route walked:  Arles

–

Saint-Gilles 

– 

Montpellier 

– 

Saint-Guilem-le-Désert.
138 km      
Altitude (ascent)
: 1.230 m.