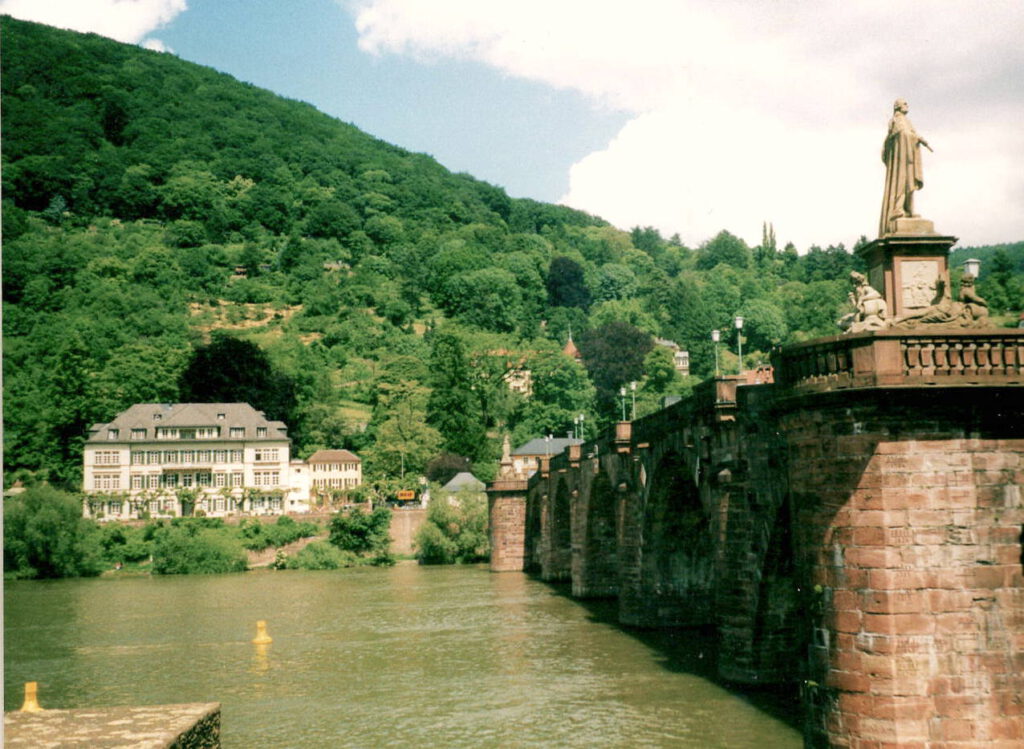 From 1946 to 1954, the father's family and the publishing house were housed in one of the most beautiful residences in Heidelberg: a noble, classicist building on the northern bank of the Neckar viewing the Old Bridge, Heidelberg Castle and the old town, and with an enchanted garden that reaches up to the 'Philosophenweg'. The child Lambert and his playmates were only allowed to stay in the lower areas of the park, which contained a small pond and were dominated by a huge red beech. But for a little boy even that was a true fairytale world full of secrets. As playground also served the 'Neckarstaden', the river bank in front of the house, where there was always something exciting to watch for a child: for example, the barges that passed the Old Bridge in both directions, or, when the water was high, driftwood that was blown by the rapid current down the river, and finally – at least once a year – the famous 'Heidelberg Castle Lights' with fireworks: an event initiated and sponsored by the American occupiers, which was absolutely spectacular at the time.
The bank of the Neckar was also the child's 1-hour walk-way to the elementary school in Ziegelhausen: a private school in which around 8 children from 5 to 10 years of age were taught together and where little Lambert was allowed to go out to the meadow from time to time and play with the sheep when he wasn't in the mood to study.
When the house at Neuenheimer Landstraße was acquired by the Evangelical Church for seminary purposes, the family and the publishing house moved to a much more modest place in the 'Weststadt'.